We are homeschooling through a home based charter school. They offer a weekly workshop for the kids and today was the 1st day of classes. The kids were very excited! My darling daughter picked out an entire new outfit all the way down to the hair style and type of rubber band she wanted in her hair. The boys wore clean clothes and begrudgingly brushed their teeth and hair (it's a Mars/Venus thing). I had every intention of taking a picture of them by the school's welcome sign but alas, we were about 10 minutes late due to parking issues and I forgot the camera anyway. Thankfully I did bring my cell phone so I was able to take a pic of my crew before hurling them in to new classes at a new school with children they have never met. Yeah, I know...Mother Of The Year...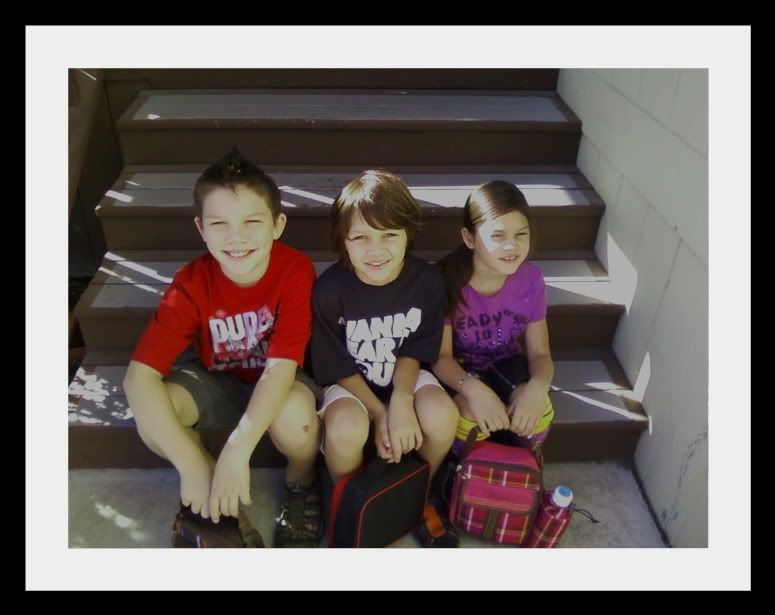 They had a good day. My sweet little girl made a friend. She can't remember the girls name but they own the same skirt and she also wore her hair in a side ponytail - friends for life! My Babbalou had fun in his math class and then we worked together one on one doing his "dyslexia" exercises - that is tough work but he is doing better every day. T-man loved his math class and he thinks he will get used to his writing class, even if they have to write
poetry
. After the classes were over we all sat down to have a nice picnic lunch. When we got home the kids all crashed on the couch - 3 whole hours of learning outside of the home is just exhausting!